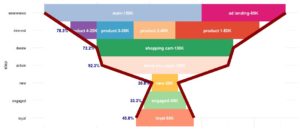 Marketing Analytics
Marketing has become highly competitive and complex with increasingly sophisticated analytics techniques giving companies of all sizes a competitive edge.  Successful companies are using the analytics edge to focus on their customers with data driven insights from analytics solutions to guide their business. 
ALI consulting services can help your organization get the most value from your data by giving your marketing efforts an analytics edge.  We become a part of your team to help you attract and retain customers and increase your market share.  We deploy sound marketing and analytics principles to drive business performance and improve marketing ROI with the following solutions
Market Mix Modeling
With advance analytical techniques and a deep understanding of your industry, market, and brand ALI determine the performance of your marketing mix.  We provide customized actionable insights to help you gain an edge with analytics in sale, market share, and marketing ROI.
Segmentation
Advanced analytics based customer segmentation improves the effectiveness of marketing efforts and decreases costs by combining customers into segments based on similar attributes, match sampling, and predicting which segments are likely to respond to what type of message and buy which product or services.  We help you find the mix of customers that will maximize your sales and profits.
Cross-selling and up selling
ALI analytics will help you identify customers who you can cross sell to by offering additional products or services based on their current purchase behavior.  We will also find the best candidates who are likely to purchase improved or higher end products and services based on ALI up sell models to increase incremental sales.
Customer Acquisition
ALI decision analytics uses advance techniques such as customer choice modeling for customer acquisition so your institution can understand is customers better using demographic and behavioral attributes and gain insights into clusters that may be most receptive to which of your marketing offers.
Pricing Strategy
ALI analytics offers a complete price optimization strategy based on a comprehensive measurement designs that show price based risks and opportunities for your brand.  We help you understand pricing tradeoffs based on your brand and portfolio offerings. 
Customer Loyalty Analytics
ALI Customer Loyalty Analysis looks at a multitude of factors that may be driving conversion and retention for each of your customer groups to determine the optimal approach to target and drive loyalty for each customer segment. We focus on understanding the long term value of each type of marketing communication, and its impact on each type of consumer. Our analyses provides actionable and comprehensive insights on the lifetime value of different customer segments so you can drive customer retention.  We also help you identify your customer's lifetime value.
Customer Experience Analytics
ALI customer experience analytics will help you identify the most effective approaches to customer retention, churn analysis, and loyalty programs. Predict which customers are likely to switch from your brand or organization (churn) and provide the options that are most likely to mitigating this loss.
Market Basket Analysis and Association Rules Modeling
Assess your existing customer base and determine the origin of your most profitable customers, then optimize return on investment for marketing campaigns. ALI advanced analytics will help you discover patterns in your transactional data to identify which products or services are often purchased together with cool graphs.
Marketing Channel Optimization
ALI Marketing Optimization services for your channels (tv, radio, internet, print, direct mail, paid, unpaid, etc.) help you improve efficiency and profitability by pinpointing the level of marketing activity required to maximize your sales and profit and minimize costs. Our approach leverages advanced econometric models that first determine the performance and ROI of your various marketing efforts. Next we optimize by adding cost and budget constraints to show you the optimal allocation of resources in your marketing portfolio to meet your ROI, sales, and profit objectives.
Digital Marketing
We also offer social media marketing, search engine optimization (SEO), content management and info-graphics and content creation. Blogging and article writing and submissions.
Marketing Campaign Analysis
We help you monitor and analyze the effectiveness of your marketing campaigns so you can make adjustments in order to optimize return on investment. ALI will assist you in allocating the optimal marketing spend on marketing campaigns and help you justify them by demonstrating their success, and also show you when to modify or discontinue or certain campaigns with A/B testing and rapid scoring models.  We build intuitive, adaptive, highly accurate, fast, and actionable.
We employ an Agile development process and innovative analytic techniques to help your organization discover valuable insight from customer satisfaction surveys, analyze call center data, for building recommendation engines that assist you in developing more effective marketing campaigns with better development and execution.
Brand Equity
Monitoring and measuring the market position of your brand is important to ensure your brand contributes positively to sales and growth, as well as project the direction of future business growth and stability in the marketplace.
We work to understanding the drivers of a client's true brand equity in order to identifying the brand health as it actually drives brand sales, conversion and/or penetration.  We work with you to identify the optimum channel mix to drive uplift in various brand health measures which in turn drive sales and all key performance indicator (KPI) growth.
Contact ALI Today to use the Power of Analytics to gain a Marketing Analytics Edge